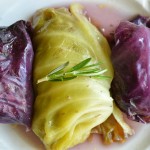 Servings

Prep Time

14

rolls

30

minutes
Servings

Prep Time

14

rolls

30

minutes
Servings

Prep Time

14

rolls

30

minutes

Servings

Prep Time

14

rolls

30

minutes
Cook the rice according to package directions, then set aside.

Bring a large pot of water to a boil. Cut slits by the stem at the bottom of the cabbage at each individual leaf and carefully remove each whole leaf, one at a time-you'll need about 13-15 leaves. Boil the leaves for 4-5 minutes until translucent, then remove and strain. Lay flat on a board or pan and cut about 1-1/2" of the thick stem out. *If they rip or aren't perfect it's okay!
In a large mixing bowl, combine raw ground meat, salt, pepper, rosemary, finely chopped onion, minced garlic, bell pepper, 3 Tablespoons of the tomato sauce, and the cooked rice; mix thoroughly with hands.
Heat olive oil or butter in a large heavy skillet (10 or more inch skillet with a tight fitting lid) over medium heat. You may need two skillets.

Lay out each of the cabbage leaves and stuff with about 1/2 cup of the filling (use less if the leaves are smaller or ripped). They should not be so full that the leaf cannot completely cover the meat when wrapped. Wrap the meat like a burrito with the cabbage leaf to cover completely.

Place each wrapped leaf seam-side down into the skillet and sear the rolls uncovered for 5 minutes. Cover and reduce heat to medium-low.

Allow to cook for 20 minutes until the meat on the inside is completely cooked through.

Heat the tomato sauce and serve generously over the rolls along with plain yogurt to drizzle over top.