Well despite a beautiful fall, old-man winter is knocking at my door, about to snatch away the last bit of warm weather before the on-set of the official "holiday season" and blustery temps. But you know what that means…only a few days left to enjoy all things Pumpkin before the switch to all things Peppermint commences!
I don't know about you, but the weekend after thanksgiving I tend to feel a little turkey'd out and just want to stay inside, relax, and enjoy some warm, comforting (and of course delicious) foods. That is precisely why I plan to make this Perfect Pumpkin Chili, which just so happens to go perfectly with this time of year. Best of all, I can make it ahead of time because it freezes so well, and have it ready for the weekend!
Why pumpkin chili you may ask? Doesn't that taste funny??
For those who may only associate "pumpkin" flavors to pumpkin pie or pumpkin spice lattes, I can see where your skepticism may get the best of you. However, the flavor we tend to associate with pumpkin, comes primarily from pumpkin pie spice mix (consisting of cloves, ginger, cinnamon, and nutmeg) and sugar. Plain pumpkin, the squash, actually has a very mild, squashy-like flavor…not at all what you'd think of as a staple dessert. It is the texture however, that makes it so appealing, giving your pies that creamy goodness.
After all that…plain pumpkin pure added to your chili gives it a wonderful rich, creamy, and thick texture, and offers a slight flavor twist on traditional chili's. Not to mention that pumpkin offers a nutritional boost of vitamin A, vitamin C, fiber, potassium, and some of the B-vitamins. Mmmmmmm, nutrition! Give me another bowl of THAT! This chili can be made with or without meat, so if you need a vegetarian option or something a little lighter, this can go either way.
So grab a spoon and dig into this fall favorite one more time this season!!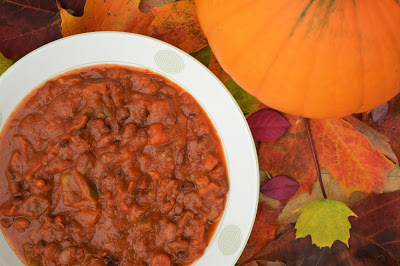 Perfect Pumpkin Chili
Adding pumpkin to your chili gives a delicious and creamy texture while providing a flavorful twist on an old chili favorite...not to mention a nutritional boost! Make extra to freeze when you need a quick lunch or dinner on a chilly day!
Ingredients
1

large

onion

chopped

1

tbsp.

olive oil

extra virgin

2

cups

carrots

chopped

2-3

cups

green pepper

chopped

3

cups

tomato sauce

organic, I use tomato basil flavored, low sodium

3

tbsp.

tomato paste

organic

6

cups

diced tomatoes

fresh or canned

6

cups

beans

combination of pinto, black, and/or kidney

3

cups

pumpkin puree

about 1.5 cans

3

cups

water

1

pound

grass-fed ground beef

optional, will make a non-vegetarian chili
Seasonings
1.5

tbsp.

chili powder

1/2

tsp.

cinnamon

1

tbsp.

cocoa powder

unsweetened

1

tbsp.

Himalayan salt

1

tsp.

black pepper

3/4

tsp.

paprika

1

tbsp.

oregano
Instructions
In an 8-12 quart stock pot, heat the olive oil over medium heat. Add in chopped onions and saute for 5 minutes until they begin to brown.

Stir in carrots and green pepper. Cook for a few minutes until they begin to soften. (Add in ground meat if using and chop into small pieces).

Add in remaining ingredients and all seasonings. Stir to thoroughly incorporate seasonings and pumpkin into the mix.

Reduce heat to medium-low, cover, and allow to simmer for 30 minutes-1 hour, stirring occasionally. Taste to see if you want any additional seasonings or spices, add accordingly. Enjoy!
Notes
This recipe makes a very large batch, great for freezing extras or serving a crowd. A serving size is about 1-1.5 cups. You can easily half the recipe to make a more manageable pot if you do not want a lot of extras.