Nothing speaks summer like a fresh dish full of seasonal ingredients! This salad is so fun and combines some of my favorite things like roasted Brussels sprouts, Sweet Potatoes, and Beets with the crispness of fresh veggies.
Eating should not only taste great, but you should feel great about the ingredients and nutrients going into your body! This "superfood" salad was carefully crafted to provide a host of antioxidants, healthy fats, vitamins, and minerals to energize the body and revitalize the soul. Eating well is beautiful.
This recipe makes 4-6 servings, depending on your hunger level! I like making a big batch and having leftovers to snack on for the next few days. You can hold off adding extra vinegar to the greens  until just before service to preserve freshness. Even if you are not a huge fan of some of the ingredients, give them a try in this tasty combination, it may surprise you!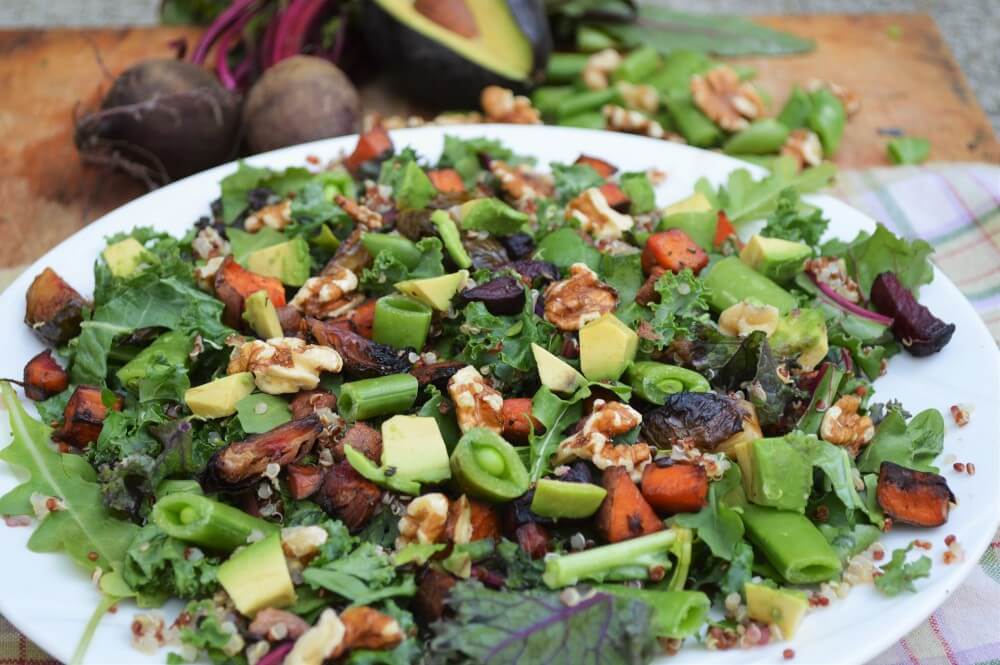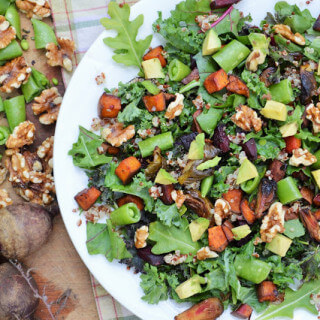 Roasted Vegetable Quinoa Kale Salad
This salad is bursting with nutrients, fiber, and healthy fats. Makes an excellent dinner and an even better lunch the next day! If you're missing a few of the ingredients, no worries, use what you have on hand, it'll still make an excellent salad!
Ingredients
1.5

cups

quinoa

cooked

2

small

sweet potatoes

cut into bite-sized cubes

2

medium

beets

reserve beet greens for salad

2

cups

brussel sprouts

cut into quarters

1/2

tbsp.

fresh rosemary

chopped

Himalayan salt or sea salt

to taste

1

bunch

kale

chopped

2

cups

arugula

1

ripe

avocado

diced

1/2

cup

sweet pea pods

cut in half

2

tbsp

walnuts or pumpkin seeds

chopped

1

tbsp

olive oil

extra virgin

2

cloves

fresh garlic

minced

3

tbsp.

balsamic vinegar

plus more to taste
Instructions
Cut the beets, sweet potatoes, and Brussel sprouts according to directions. Preheat oven to 350˚F. Spread vegetables one-layer thick onto a baking sheet and drizzle with olive oil and balsamic vinegar; stir or toss to coat. Roast for 35-40 minutes. Halfway through roasting, stir in minced garlic. Vegetables should be tender and browned when finished, roast longer if necessary. Toss with chopped rosemary, salt, and pepper when roasting is complete.

Cook the quinoa: In a medium saucepan, bring 1.5 cups of water to a boil. Add in 3/4 cup dry quinoa and a dash of sea salt and simmer covered until all the moisture is absorbed, about 15 mins. Remove from heat and allow to cool slightly.

While vegetables are roasting, wash and chop the kale and beet greens, removing the thick stem. Toss together with arugula. (may use other salad greens if desired)

Assemble: Toss all ingredients in a large bowl to thoroughly combine. Add additional balsamic vinegar if desired. Enjoy! Ingredients can be chilled and salad served cold