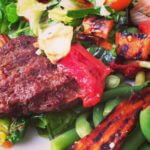 Servings

Prep Time

4

burgers

10

minutes
Servings

Prep Time

4

burgers

10

minutes
Servings

Prep Time

4

burgers

10

minutes

Servings

Prep Time

4

burgers

10

minutes
Finely chop the onion and herbs, mince the garlic and place into a mixing bowl. Add the ground lamb to the mixing bowl. Add salt and pepper.

Mix the meat thoroughly with the spices to evenly combine. Form the meat into 4 tightly packed burgers.

To Cook: Burgers can be cooked on a grill or in a pan over medium heat Place formed patties onto heat source, cover, and allow to cook for about 5-7 minutes. Flip burgers and continue to cook another 3-5 minutes or until they reach desired done-ness (pink is gone from inside).
Preheat oven to 350 degrees. Form meat into golf-ball sized balls and place onto a baking tray. Bake for 15-20 minutes until cooked through.