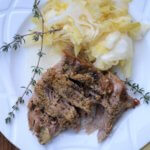 In a small dish, measure out and mix together all rub ingredients: the spices, oil, and mustard

Spread 1/2 the rub on once side of the roast, flip over and spread the other 1/2 on the backside. Refrigerate to marinade for several hours, or use immediately
Whisk together ingredients for the sauce in a small dish and poor into the bottom of slow cooker. Set slow cooker to low.
If using Sauerkraut, place in the bottom of the Crockpot on top of the sauce. Place the rubbed pork shoulder on top of the sauerkraut. If not using Sauerkraut, place the pork on top of the sauce.

Turn the Crockpot to low and let cook for 5-6 hours. You may flip the pork 1 time during cooking if desired. When it easily pulls apart and is tender inside it is done!