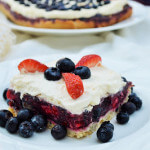 This is the perfect summer dish for any gathering that calls for a delicious treat! Using the fresh berries of the season, these pie bars provide all the goodness of summer in a cool refreshing bite of pie. Keep refrigerated
| | | |
| --- | --- | --- |
| | | This is the perfect summer dish for any gathering that calls for a delicious treat! Using the fresh berries of the season, these pie bars provide all the goodness of summer in a cool refreshing bite of pie. Keep refrigerated |
Preheat oven to 350 degrees.

Whisk the brown rice flour, oat flour, and salt a large mixing bowl (note: you can grind oats in a food processor or Vitamix to make flour)

Cut the cold butter or coconut oil into chunks and mix in with the flour until crumbly and butter is broken into little pieces.

Knead in the egg, vanilla extract, honey, and cold water and mix until all ingredients are thoroughly combined (hands work well to mix)

Grease a 9x13 pan with butter or coconut oil. Press dough evenly into pan, making a small lip around the outer edges. Bake at 350 degrees for 15-18 minutes until golden, and edges begin to brown. Allow crust to cool.
Prepare the filling while crust is baking
Place half the blueberries (1.5 cups) and half the raspberries (1 cup) into a food processor and blend to liquefy. Add in water, lemon juice, and honey; blend to combine. In a small saucepan, heat the 4.5 tbsp. of water over low heat. Sprinkle unflavored gelatin evenly into the water and immediately whisk to melt. Continue to whisk until there are no lumps and gelatin is completely dissolved. Pour gelatin mixture into the food processor with berry mixture while it is running. Transfer filling into a large bowl and stir in remaining berries (may add additional whole berries if desired) Pour the berry filling into the cooled crust and refrigerate for 3 hours or until filling is solidified.
Pour cold heavy cream into a large chilled bowl. Using a hand or stand mixer on the highest "whip setting", whip the heavy cream for about 5-7 minutes, scraping sides of bowl periodically. Once cream begins to thicken and form stiff peaks, stir in honey and vanilla. Do not over-mix and make butter!

For coconut cream whipped cream, chill a can of full-fat coconut milk (or use a can of coconut cream); this allows the cream to separate from the liquid. Scrape solidified cream into a bowl (not the liquid) and whip for several minutes with honey and vanilla until fluffy. Keep cold.

Spread whipped topping over the berries once they are completely solidified. Top with additional berries if desired.